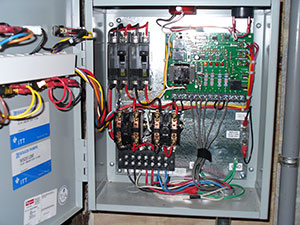 Here at A-1 Electric, we have a team of qualified inspectors, electrical contractors, underwriters and electricians that have earned the trust of our clients for decades. We have over 65 collective years of experience with reintroduction of service (also known simply as "re-intro") in Philadelphia and its surrounding areas. Our trained and certified crew can complete any job, devoting the necessary time to ensure no detail is overlooked. Since our founding in 1955, we have built a reputation for superior craftsmanship and unsurpassed quality.
Our inspectors will travel to your property, and can even provide bucket truck services when you need to confirm the safety of an electrical service to restore power.
A re-intro of service is required by electrical utilities for both residential and commercial properties as a line of site inspection by a third-party agency in Philadelphia or a third-party agency Bucks County, PA. In order to pass an inspection for re-intro in Philadelphia and Bucks County, requirements with the Authorities Having Jurisdiction (AHJ) include:
-Service Head
-Service Cable
-Structural Integrity
-Meter Socket
-Panel
-Sub-Panel
-Service Disconnect
-Grounding/Bonding
-Other Service Equipment
Electrical Contractors
When your equipment is inspected and deemed sufficient and stable enough to pass the reintroduction of service requirements from a certified electrical underwriter in Philadelphia, we will submit your certification to your utility service in your AHJ within 48 hours. There are some instances when your local utility will require a homeowner, tenant or landlord to submit a service and meter location form before the process is completed. For a full list of requirements, contact your local electrical utility.
(Note: We can't be the electrician and inspector on the same project – it's one or the other.)
Our electrical contractors faithfully serve homes and businesses in the following local areas:
-Bucks County, PA
-Montgomery County, PA
-Feasterville-Trevose, PA
-Philadelphia
What is required from a home or property owner before a re-intro inspection is performed?
You are required to be on the property ahead of the time you scheduled for inspection. In order to get the property prepared and ready for the generator inspector in Philadelphia or the PECO electrical inspector in Philadelphia, you must make sure your inspector is not obstructed. For safe inspection, all objects must be cleared from the egress. This means clearing out the garage, basement, front door and rear door, as well as unlocking the yard gate.
Our electrical contractors take pride in their work and have received positive feedback from numerous clients that have relied on our team for all of their electrical needs. Whether you're a contractor or a homeowner, our team handles all of your third-party electrical inspections, underwriting, consulting and electrical contracting needs.
When you turn to A-1 Electric for complete electrical inspection, underwriting, electrical contracting service, and bucket truck services in Bucks County, you know you're getting personalized treatment from a dedicated and experienced team of master electricians and inspectors.
If you need electrical service in Montgomery County, PA, Feasterville-Trevose, PA or any of the other local areas in the Philadelphia region for residential, industrial and commercial electric projects, contact us today, and we'll get the job done correctly.
Note: We can't be the electrician and inspector on the same project – it's one or the other.